STRIKING GOLD: INTRODUCING SVZ's NEW GOLD KIWI PUREE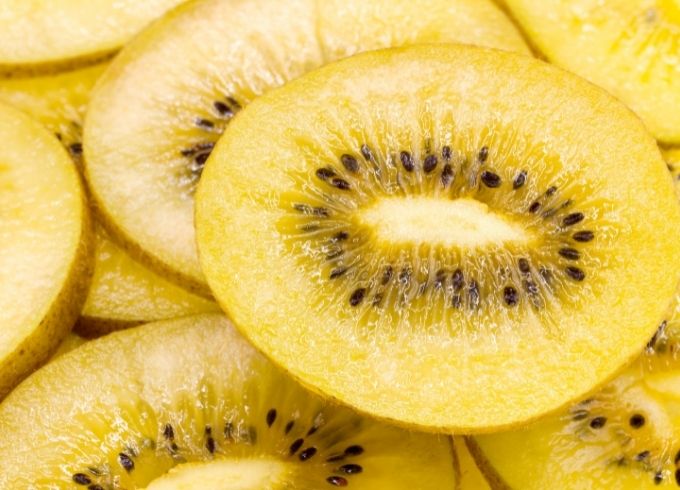 The majority of us are familiar with the traditional green kiwi, instantly recognisable by its fuzzy brown skin, green flesh and black seeds. However, have you encountered its lesser known cousin, the gold kiwi? As the name suggests, the fruit's flesh is a deep golden hue.
The differences aren't just in appearance, however – while the green kiwi is typically tangy, the gold kiwi has a tropically sweet taste, often described as a cross between a mango and a strawberry. With this in mind, SVZ's new gold kiwi puree is a fantastic, honeyed addition to a wide range of applications including dairy, ice cream or smoothies, helping manufacturers differentiate their offerings and explore new, tasty flavours.
With a broad range of nutritional benefits, and packed full of vitamins and minerals, the gold kiwi is perfect for NPD teams seeking to add natural sweetness with an exotic touch, without resorting to additives or added sugar. With as much potassium as a banana, less fat than a regular green kiwi, and providing a good source of vitamin E, vitamin C and fibre, the gold kiwi has been touted as a superfruit. It's a nutritious and delicious option for quality juices, smoothies or health shots, perfect for consumers who want great taste without compromising on their health goals.
Plus, as part of SVZ's ongoing commitment to environmentally friendly business practices, our new gold kiwi puree has been developed with our sustainable sourcing and traceability goals in mind. Created with high quality fruits which don't meet the fresh market's high aesthetic standards, our puree ensures that all nature's goodness finds a home – providing both manufacturers and consumers with an ingredient that delivers maximum taste, with minimal environmental impact.
To find out more about SVZ's new gold kiwi puree, and to discover how – as a sweeter, healthy alternative to traditional kiwis – it can be used to enhance your current product portfolio, get in touch with the SVZ team today.